"Welcome to Pavna Group"
"Success is not final ; failure is not fatal : It is the courage to continue that counts,"
As the most experienced automotive part solutions company in South Asia, PAVNA GROUP, enjoys a history of around 50 years of innovation, technology, manufacturing and market leadership. Today, it has become the provider of high-quality reliable parts such as Ignition Switches, Fuel Tank Caps, Casting Components and other automotive parts solutions  worldwide. It has ultramodern manufacturing plants in India, located in Aligarh, Aurangabad, Pantnagar & Pune. The industry engages over 4000+ (direct / indirect) personnel specialized in designing, production, quality & other associated services. Unit of Pavna has been awarded with prestigious IATF 16949 : 2016 | ISO 14001 : 2015 | ISO 45001 : 2018.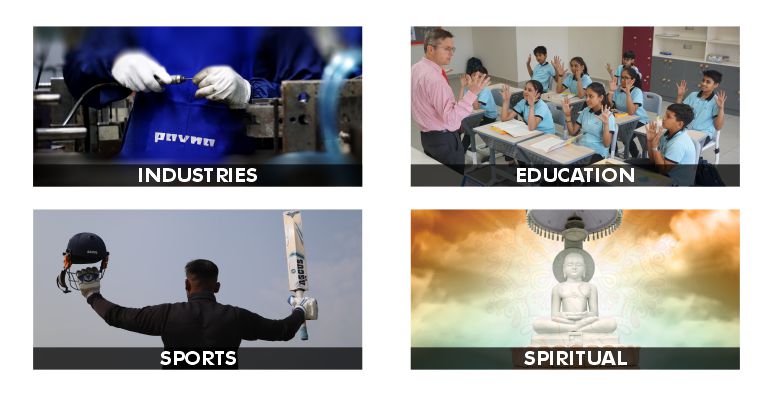 The distinguished group has not limited itself in achieving success not only in the field of industries but also evolved efficiently in the field of Education and furthermore it has created a benchmark in the course of spirituality and sports. As in the field of education, three DPS Schools in Aligarh and Hathras for the past two decades are successfully running under it. The institution Delhi Public School Aligarh which was established on 15 August 1998 aims at giving a qualitative high standard education that develops the students' innate potential to the fullest. DPS Civil Lines Aligarh under the aegis of the DPS society is a state-of-the-art modern school, with ample opportunities to manifest the talents of students and nurtures well-rounded personalities with the best infrastructural facilities . Delhi Public School Hathras is an ambitious project of Sh. K.K. Jain Educational Trust Aligarh that commenced on 11th June 2013, in the august presence of Sh. Ashok Chandra, the Chairman of Delhi Public School Society, New Delhi and other dignitaries. The campus of this school sprawling with scenic beauty, has an idyllic setting and a pollution free atmosphere ,that fulfills the crucial need of students to learn, introspect and contemplate. To emerge with international standards and be recognized globally, we have launched the most ambitious project Pavna International School, that encourages students to grow beyond books with the concept of experiential learning and strictly follows the Cambridge international curriculum(IGCSE).
"An athlete cannot run with money in his pockets . He must run with hope in his heart and dreams in his head."
Pavna firmly believes that sports is an integral part of everyone's life , one of them is cricket, which is not just a sport in India but also a game that unites us all as one in celebrating the achievements of our nation.  Pavna Cricket Academy established in 2010 at the Delhi Public School Aligarh is providing the same by bringing the opportunity to learn, master and excel in a sport that has been called by many as the religion of the nation. The motto of the academy is to bloom great cricketers for the coming days with the best cricket coaching that they have been providing for a decade as of now.
ASCUS Cricket is an arising Cricket Equipment manufacturer. It was established with the purpose whether you are playing on the thoroughfares, sweating it out in the spa or performing in front of millions, you earn the stylish sporting experience possible with a wide range of all accoutrements i.e. Batons, Balls, Stumps, Helmet, Pads, Tackle Bags etc. It also supports young talented players by providing them possible guidance and backing.
In a major boost to the sport, Golden Eagles originated with a vision to put the state on the global map by creating world-class athletes from the region. Premier Handball League (PHL) launched Golden Eagles Uttar Pradesh, as the new franchise by South East Asia's leading automotive parts solution company.
"Spirituality is not about being fixed; it is about God being present in the mess of our unfixedness."
'Teerthdham Mangalayatan' is a Jain passage complex, promoted and developed by Shri Adinath Kund-KundKahan Digamber Jain Trust, at Aligarh, India. It isn't just a group of tabernacles, it's actually the consummation of a broad socio-religious conception that encompasses devotion, social service, education and socio-religious exploration conditioning. The Temple complex includes 5 tabernacles within the complex area as Bhagwan Aadinath, Bhagwan Mahaveer, Bhagwan Bahubhali, Manstambh and Jinvani Mandir.
'Teerthdham Chidayatan' The word Chidayatan has been composed of two separate Hindi words-CHID and AAYATAN. CHID means a substance called the Soul, characterised by its natural quality of perception and "AAYATAN" means a place. It's that utmost sacred place, which motivates one to be wallflower in realizing one's own soul. Outside of the bustling material life ,the need for spiritual rejuvenescence and a life amended with introductory mortal values has frequently made us contemplate the necessity of a Chidayatan.